Fire Captain Interview Questions
Fire Lieutenant Interview Questions!
Fire Officer interview questions from actual interviews
We have developed the most comprehensive set of Fire Officer interview questions that have all come from ACTUAL INTERVIEWS! These include Captain interview questions and Lieutenant interview questions.
How would it feel to walk into your Captain's interview or Lieutenant's interview full of confidence and fully prepared for anything that might be thrown at you? How about not experiencing the anxiety or fear of being "grilled" by a panel of Fire Chiefs during the most important interview of you life? The last thing you want is to flush all your hard work and studying down the tubes by bombing an interview. Most Captain and Lieutenant candidates are extremely bright, but have a hard time articulating their thoughts when a question is "sprung" on them. How do they construct their thoughts and cover all of the necessary parts of the question when they are under the extreme pressure of an interview?
Welcome to the best kept Secret for Fire Officer Promotions
The answer is simple. If you are given a list of interview questions, you can prepare your ideas and thoughts in advance. Then when it comes up in an interview, you will be ready to gracefully articulate an answer. It took three years to compile our list of actual interview questions. Working in collaboration with retired Fire Chiefs, Battalion Chiefs, Captains, and Lieutenants, we gathered a huge list of ACTUAL interview questions.
Over 80 Actual Captain and Lieutenant Interview Questions!
"Thank you so much for your work in compiling this book. I went into my interview calm and collected, and knocked them dead. I was asked 13 questions, and 12 of them were covered in your book. Your list of sample questions was amazing. I have never seen anything like it. I will recommend your book to every fire captain candidate I can. By far the best fire officer interview prep out there."

Mike Neilson Sr.
Newly promoted Fire Captain
In our 2 years of selling this system we have NEVER had a customer tell us our book was not effective at preparing them for their fire officer interview. In fact, many of our customers contact us after their interviews and tell us that our guide covered over 90% of the questions they were asked! Our reply is always the same, "Tell us the question we didn't cover." We then add that question to our list!
This Book Prepares you for the Scenarios!
Arguably the hardest part of a fire officer's interview is the scenario section. This is where they construct an incident and then wait for you to explain your actions from start to finish. This is incredibly hard to accomplish "cold". Wouldn't you rather go over your strategic goals and tactical objectives beforehand? Our book gives you the most common scenarios asked in Captain and Lieutenant interviews.
" . . . absolutely the best way to prepare for a Captain or Lieutenant's interview on the planet. This little book covered every single interview question that they asked me. I was astounded."

Terry McClem
Newly promoted Fire Captain
There's More, our book also covers:
The Top 10 Biggest Mistakes officer candidates make, and how YOU can avoid them

Fire Officer Interview Tips and Strategies, what to do, and what NOT to do

How to Dress for your interview, and why

How to insure you eliminate the "umms" "hrmms" and "ughhs" from your answers.

A complete study system that teaches you how to form and articulate your thoughts into quality answers.
"As soon as I downloaded your book I said 'wow'. The list of interview questions was huge. Its obvious that they were from actual interviews due to their depth and specificity. I followed your study system and felt very prepared. I purchased 2 print books, and 3 e-books in my preparation for this lieutenant interview. Your single book had more quality interview questions than the others combined.

Jamie Hansen
Newly promoted Fire Lieutenant
We have never had a negative review of our product, read our customer comments here.
Half Price Sale - Limited Time Only !
We have sold many copies of this book for $97, but as a special offer, we are putting our Fire Officer Interview e-book on sale for $47.97. This is a super deal on a product that will prepare you for the most important interview of your life.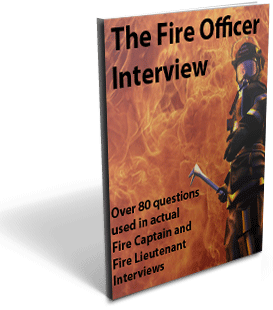 Buy the Fire Officer Interview Guide for $47.97 and download instantly. All payments are processed through Paypal.